Setting date to 1 January 1970 stops phone rebooting ever again
The iPhone 7 is expected to launch in September this year, possibly accompanied by the iPhone 7 Plus and iPhone 6c.
Here we round up all the latest news on the iPhone 7 release date, price and features ahead of its official launch in the autumn.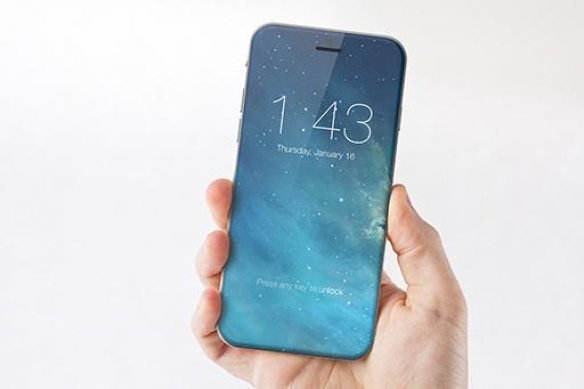 Apple iPhone 7: at a glance
iPhone 7 release date expected to be 13 September
Could be accompanied by iPhone 7 Plus and iPhone 7c/6c/5se
iPhone 7 on sale in the UK one week after launch
Predicted UK price from £540 inc VAT
iPhone 7: latest news
12/02/2016: Apple iPhone users have been urged not to change the date on their devices to 1 January 1970 as this will render the phone completely unusable. The fatal bug was discovered by a Reddit user who issued the warning "beware: do not try".
"When the date of a 64-bit iOS device is set to January 1, 1970, the device will fail to boot," writes User vista980622.
"Connecting the device to iTunes and restoring the device to factory defaults will not put the device back in working order," the user added: "Instead, a physical repair is required."
It appears iOS devices store the date in GMT, with some time zones earlier than this means that the internal clock is set to below zero for some users, rendering the device useless.
The bug is said to affect any iOS device with a 64-bit chip, such as the iPhone 5s, 6, 6 Plus, 6s and 6s Plus, the iPad Air 2, the iPad Mini 3 and 4, and the sixth-generation iPod Touch. The bug was found during beta testing of iOS 9.3 but is also thought to apply to iOS 8 or later.
11/02/2016: Apple could face a legal backlash over the notorious iPhone-bricking 'Error 53'.
US law firm PCVA has begun investigating the possibility of a potential class-action lawsuit against the tech giant.
This comes after thousands of angry consumers reported that a security update in iOS 9 rendered their devices inert.
The feature is designed to prevent unauthorized users unlocking the device by replacing the TouchID fingerprint sensor with a compromised one.
iOS scans the components, and will permanently lock the phone if it detects non-stock parts, displaying the 'Error 53' message.
However, replacing the TouchID reader is often a necessary part of a standard screen replacement. If not performed by a certified Apple technician, this will be registered by the software as tampering.
The update works retroactively, meaning that any device that had previously been repaired could potentially be suddenly and unexpectedly disabled.
This possibility was not disclosed by Apple, and has led to consumer outcry, with many users having to simply replace their expensive handsets outright.
Unless backed up to a cloud storage service, any data kept on the phone is also unrecoverable.
Various commentators have suggested that Apple's actions amount to anti-competitive practices, and PCVA has stated "Apple may be intentionally forcing users to use their repair services".
"Where you could get your screen replaced by a neighborhood repair facility for $50-80, Apple charges $129 or more," the firm says. "There is incentive for Apple to keep end users from finding alternative methods to fix their products."
PCVA is aiming to nail the company for breaching consumer protection laws in the United States.
The case marks the latest in a string of lawsuits directed against the company, including a number of high-profile copyright infringement disputes.
09/02/2016: Forty-two per cent of people planning to buy an iPhone are waiting for the release of the iPhone 7, according to a new survey.
The study, conducted by Bank of America and Merrill Lynch, surveyed 1,000 consumers and indicated that anticipation for Apple's next handset may be impacting on sales for the iPhone 6s in 2016, reports BGR.
However, according to StreetInsider, 51 per cent of people planning to buy an iPhone 7 already own an iPhone 6 or 6 Plus, and 26 per cent own an iPhone 6s or 6s Plus.
For those using the older iPhone 5s, 49 per cent of those planning to upgrade said they would purchase the iPhone 6s or 6s Plus, leaving 21 per cent waiting for the release of the iPhone 7.
05/02/2016: The iPhone 7 could be water resistant and have a shatter-proof screen, according to several sources.
The waterproof rumour comes from a patent filed by Apple with the US Patent Office in 2014, which was only made public this week. The filing relates to "an acoustic prot of acoustic device [which] is covered with a mesh and/or other structure that resists entry of liquid and/or other materials into the acoustic device".
The patent itself is for an "umbrella section [that can] direct the liquid away from the mesh such that pressure from the liquid upon the mesh may be reduced". This, the filing says, can mitigate damage to the mesh and/or internal components.
The accoustic devices mentioned refer to microphones and speakers, which are typically a point of ingress for water and other liquids if a phone becomes submerged.
This may all sound rather technical, but what it boils down to is the possibility of an iPhone 7 with an ISO certification for water and dust resistance. This is something that has been rumoured before based on previous Apple patent filings, but has never yet made its way into a production iPhone. However, with more than one patent now on the cards, the likelihood of Apple's next iPhone being water resistant is somewhat increased.
One caveat that we would add, though, is that the main external view in the patent drawings looks like an iPad, rather than an iPhone.
04/02/2016: The new iPhone will be thinner than ever, with a camera that is flush with the surface of the device.
This is according to MacRumors, citing an anonymous source familiar with Apple who the publication said has a track record of accurate leaks.
The rear camera, which protrudes slightly on previous models iPhone 6 and 6s, will be made thin enough that it sits smoothly within the rear casing, MacRumors reported.
A welcome change for most Apple fans will be the removal of the antenna bands from the back of the latest model. The bands, which were meant to help boost signal, will remain on the sides of the phone, though.
29/01/2016: It seems that rumours Apple will drop the headphone jack on the iPhone 7 have gained a bit more credibility. Jason Rhode, CEO of Cirrus Logic, which has supplied audio chips for Apple's mobile devices since the iPhone 5, revealed his company has "a range of products that are applicable for headsets, both USB or otherwise".
"We've executed numerous initiatives including several new products that we expect to drive strong growth in FY 2017, particularly in the second half of the year," Rhode said in Cirrus Logic's Q3 2016 earnings call, according to a transcription by Seeking Alpha.
The reference to the second half of financial year (FY) 2017 is particularly notable here, as Cirrus Logic's financial year runs from April to March and, as this call indicates, the company is now (perhaps counterintuitively) in Q4 2016. The second half of FY 2017, therefore, covers the six months immediately following the anticipated launch of the iPhone 7.
While tyis isn't confirmation of the death of the headphone jack, it does suggest some significant changes could be in the works.
27/01/2016: A rumoured iPhone 5se could come with faster A9 and M9 processors and always-on Siri. According to reports from 9to5Mac, the new phone will also see the 32GB version boosted to 64GB. However a 16GB version will also be available, much to the chagrin of users.
This will mean that the iPhone 5s will be discontinued and the iPhone 5se taking the place of Apple's "bargain-basement" entry-level phone.
The report also posits that this new device will debut in the middle of March at either an event or online announcement. This could coincide with launch of some new Apple Watch models.
26/01/2016: Apple is set to report a record slowdown of iPhone sales, according to Reuters.
The company is expected to reveal a growth rate of just over one per cent - the lowest in iPhone history - at its latest earnings call today.
The downturn has been blamed on a number of causes, including poor economic conditions in core markets like China and the decreasing difference in quality between its old and new handsets.
25/01/2016: The 4in iPhone rumoured to be launching alongside the iPhone 7 could be called the iPhone 5se, according to a new set of leaks.
The iPhone 5se is not a smaller version of the iPhone 6s or iPhone 7, these reports claim, but is in fact an upgraded iPhone 5s, which launched in September 2013.
These upgrades include several features from the iPhone 6 and 6s, such as: curved glass edges, 8-megapixel rear camera and 1.2-megapixel front camera, barometer for tracking elevation in the health app, Apple Pay, A8 and M8 chips, Live Photos, and silver, space gray, gold and rose gold colour options.
Sources also suggest the device will launch not in September, but in March, going on sale in April.
A leaked image on Dutch side One More Thing, shown above, also purports to show the smaller phone, although it has been labelled iPhone 6c.
20/01/2016: The iPhone 7 could finally drop the headphone jack, a report from 9to5Mac suggests, opting instead for wireless audio solutions and a Lightning adapter for headphones and speakers.
Rumours of such a move have been circulating for some time, but now internal iOS software code found by Twitter user @kyoufujibaya appears to confirm it, highlighting the presence of code that reads 'Headphones.have.%sinput.NO.' in the latest iOS 9.3 beta 1.1 software release.
This indicates that iPhone users will soon have to seek out alternative ways to listen to audio, though it is currently unclear which options will still be available to them.
19/01/2016: The iPhone 7 could come with LiFi technology, it has been claimed.
Twitter user kyoufujibaya first spotted a reference to LiFi in the code for iOS 9.1 firmware, which refers to "LiFi Capability". AppleInsider said it has verified the claim independently.
LiFi is an emergent technology that, like WiFi, transmits data to and from devices wirelessly. However, while WiFi uses radio waves to achieve this, LiFi uses the visible light spectrum and can achieve 224Gb/s bi-directional data transfer - far beyond what is possible with current wireless technology.
LiFi is far from being mainstream, but there were some significant breakthroughs in 2015, as reported by our sister site Alphr. Nevertheless, it still has one major drawback: whereas radio waves can travel through solid objects like walls, furniture and people, light cannot, meaning LiFi can only be used indoors and requires a specialised lightbulb in every room.
It is possible, therefore, that Apple is simply preparing for an eventual future where LiFi is more commonplace, rather than anticipating a wireless revolution taking place in the next 18 months.
13/01/2016: Apple could be planning a dramatic redesign of the iPhone 7's speaker, a patent filing has revealed.
Uncovered by 9to5Mac, the document indicates the company is struggling with the balance between good-quality audio and keeping up with the demand for a more slimline design.
Though densely-worded, the patent documents appear to suggest that Apple is considering using the handset's body itself as a resonating chamber in order to amplify volume.
Another theory put forward is that parts of the circuitry will serve double duty as quasi-amplifiers, or have holes punched in it to allow greater airflow.
The veracity of this particular rumour is questionable, however. As with any upcoming Apple products, people are quick to seize upon patent filings as evidence of new features.
Given that Apple files for more patents than Tim Cook's had hot dinners, they are not necessarily significant.
For example, previous patent documents have led to speculation about waterproofing and an inbuilt heart monitor, neither of which have materialised.
11/01/2016: Rumours that the iPhone 7 may not have a headphone jack have infuriated some Apple fans, who have started a petition to keep the standard jack, rather than using lightning or Bluetooth.
"Apple is about to rip off every one of its customers. Again," the petition reads.
"Not only will this force iPhone users to dole out additional cash to replace their hi-fi headphones, it will singlehandedly [sic] create mountains of electronic waste - that likely won't get recycled. According to the United Nations, up to 90% of the world's electronic waste is illegally traded or dumped each year."
It adds: "Tell Apple to respect its customers and our planet. Keep the standard headphone jack."
Speculation that Apple is set to remove the normal jack from its next iPhone started circulating towards the end of last year and has been increasing in intensity. Apple has not commented on these reports.
08/01/2016: The iPhone 7 may be the first model to feature wireless charging, it is claimed.
While Apple considered using wireless charging on two previous iPhones, the 7 will be the first device to sport the technology after the Apple Watch, an anonymous source told Fast Company.
The device will also use new noise-cancelling tech from Wolfson Microelectronics in its audio system, the source said, and accompanying headphones will feature it too.
The source believes the new model will use its Lightning cable port instead of a headphone jack, as has already been widely rumoured.
05/01/2016: Concerns over the future performance of Apple's iPhone range have pushed stock dividend yields in the company up to two per cent. Daniel Sparks of Motley Fool reports that Apple shares have declined by about 14 per cent over the last two months.
"Investors worry that Apple's conservative guidance for year-over-year revenue growth of about 2.5% for ... its important holiday quarter, which is its first fiscal quarter of 2016, could signal the beginning of a sustained trend of tough comparisons for iPhone sales," says Sparks.
"The iPhone, which represents about 63% of revenue, can more or less make or break Apple's annual performance. So, it makes sense for investors to spend some time speculating about how well the phone may fair in the future," he adds.
Bill Maurer of Seeking Alpha, meanwhile, has listed several analyst notes from the likes of Morgan Stanley, and Credit Suisse expressing concerns over iPhone sales in both the first calendar quarter of this year and for calendar 2016 as a whole (NB: calendar Q1 2016 is Apple's fiscal Q2 2016).
However, both Maurer and Sparks urge caution in regard to analysts' worries. Maurer notes that longer term predictions, and predictions for the company as a whole, not just the iPhone segment, are quite favourable. Sparks, meanwhile, thinks "the market has already priced in enough conservatism for potential iPhone sales growth headwinds".
Nevertheless, just how successful this segment is could depend on the release (or otherwise) of a 4in iPhone this year.
04/01/2016: The iPhone 7 Plus could have up to 256GB storage and feature a 3,2000mAh battery, according to Chinese website MyDrivers (via MacRumours).
If true, this would be both the most storage ever offered by an iPhone - twice the previous 128GB maximum - and the largest battery ever, 12.7 per cent bigger than the iPhone 6s.
A larger battery life is one of the most requested features in new smartphones, so would certainly be welcomed, however this could mean a thicker phone to accommodate it.
11/11/2015: Apple is going to launch a smaller, budget iPhone alongside the iPhone 7, according to rumours.
KGI Securities analyst Ming-Chi Kuo, who is generally considered one of the most reliable sources of information on Apple, produced a research note claiming a 4in iPhone will be coming in September, which "resembles an upgraded iPhone 5s", reports 9to5Mac.
According to Kuo, the smaller device will have a metal casing, rather than the plastic seen on the iPhone 5c, but will be missing key features from the iPhone 6s and 6s Plus, with 3D Touch being singled out.
In line with most other predictions, Kuo also expects Apple to release a successor to both the iPhone 6s and 6s Plus, maintaining the respective 4.7in and 5.5in screen sizes. They will, he said, run on the anticipated new A10 chip, whereas the 4in version will use the existing A9, and come with 2GB and 3GB RAM respectively.
Kuo believes Apple will rely on Foxconn for production of the 4in phone.
iPhone 7 Release Date
For the past five years, Apple has revealed a new iPhone in autumn and, since the iPhone 5, this unveiling has taken place on either the Tuesday or Wednesday of the second week of September. In the UK, the device has normally gone on sale 10 days later, with the exception of the iPhone 6s and iPhone 6s Plus, which went on sale just six days after launch.
Given this pattern, and the fact the iPhone 7 will be a totally new model, not just an 's' update, we expect the so-called Special Event to take place on 13 or 14 September, with the iPhone 7 on sale in the UK on 23 or 24 September.
iPhone 7 price
The iPhone 6 was priced from £539 SIM-free at launch, including VAT, as was the iPhone 6s, while the entry-level iPhone 6 and iPhone 6s Plus both cost £619. As inflation has remained at 0.1 per cent, and any rise mid-year is expected to reach a maximum of 1.5 per cent, we would expect the iPhone 7 and iPhone 7 Plus to cost roughly the same as the iPhone 6 and iPhone 6s, give-or-take £10.
An iPhone 7 mini would likely cost around £100 less than the iPhone 7 at entry-level, based on the price difference between the iPhone 5s and iPhone 5c.
Prices normally scale up by about £80 per storage tier, so our full prediction would be:
| | |
| --- | --- |
| iPhone 7 16GB | £539 - £549 |
| iPhone 7 64GB | £619 - £629 |
| iPhone 7 128GB | £699 - £709 |
| iPhone 7 Plus 16GB | £619 - £629 |
| iPhone 7 Plus 64GB | £699 - £709 |
| iPhone 7 Plus 128GB | £789 - £799 |
| iPhone 7 mini 16GB | £439 - £449 |
| iPhone 7 mini 64GB | £519 - £529 |
One caveat, however, is that if rumours of the iPhone 5se replacing the iPhone 5s are true, rather than the introduction of a top-end 4in iPhone, then it the entry level price could be more could be considerably less, perhaps in the region of £400 pounds.