Akram Wahid (Beginner)
Full Stack Developer at Jaber Bin Ali Group, -, -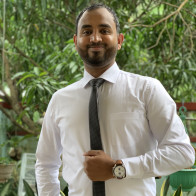 Akram Wahid (Beginner)

Full Stack Developer at Jaber Bin Ali Group, -, -
Your Professions
Your Tech Skills
About Akram Wahid
Hi There! i am Akram Wahid, a Computer Science under graduate. I am a designer / developer hybrid by profession. I design and / or develop web app User Interfaces for better user experience. I have hands on experience in developing web applications. I also have developed responsive web that adapts to handheld devices for better performance. I have developed websites, applications ranging from a personal portfolio to ERP deployment. When I'm not involved in client projects, you'll find me in front of my MAC, playing with code examples & writing codes to create real-life outputs. If I have an idea I can't sleep until make it as a real-life outputs.
I 'm very passionate about Programming and blogging and prefer to spend time with those activities. I love challenges of developing complex apps / web and applying latest trends such as HTML5, CSS3, Vue.Js, jQuery etc. At present I largely being influenced by Laravel, Lumen PHP frameworks, other PHP CMS and shopping cart systems . I too very good at database design, development, manage and administration using MySQL and SQL Server.
You want a full stack developer or a Web Application UI Designer, then don't hesitate to contact me. I too have my hobbies in my spare time. I too Play cricket and I am a cricket fanatic. In my free times I like to watch movies, action, thriller and horror are my favorite genre. I like easy listening tracks especially old country songs. But most of the time I end up reading technical books on latest technologies. That might sound like a genuine geek. I don't mind being one. I love to travel too, and I love being a Full stack developer and / or Web App UI designer !
Other Contact Information